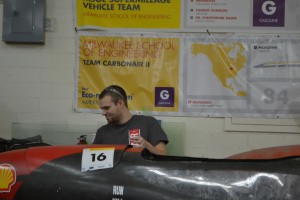 Project Manager: Brandon Vanderheyden
My name is Brandon VanderHeyden and I am a sophomore mechanical engineering student here at MSOE. My interest in engineering came from a supermileage competition that I went to with my father when I was in 5th grade. I saw the amazing vehicles that students were able to design and build and I wanted to be a part of that. I have been involved with supermileage vehicles for three years now, one in high school and two here at MSOE. During my first year on the team here I was a part of the engine team and worked mainly on the fuel delivery system, this year is my first year as project manager. I hope to apply the knowledge and leadership skills I learn being a part of this team in the automotive industry.
Driver and Chassis Lead: Lauren Goulet
My name is Lauren Goulet and I am a sophomore mechanical engineering student. My interest in engineering comes from my passion for NASCAR racing. This is my first year as Secretary on the MSOE SAE officer team. I have been involved with SuperMileage for 2 years and enjoy working on the design and fabrication of the chassis, steering, and braking systems. I would like to apply the knowledge I have gained from the SMV team to hopefully someday working on a NASCAR race team.
Gas Prototype Steering Team Lead: Karl Hundt
My name is Karl Hundt and I am a junior attending Milwaukee School of Engineering. I have always been interested in mechanical things, and I saw the school as a great way to learn more about the designs and principles governing such devices. I have worked with farm machinery for many years and have developed a love for such equipment, and aspire to be the person designing and testing those machines that feed the world.  I have long enjoyed working with my hands and spend much of my free time building and fixing things, along with my fair share of welding and fabricating. I saw SAE as well as the SuperMileage Team as a great opportunity to be part of a design/build group, and I have enjoyed it greatly. I am the co-Chassis, Steering and Fabrication Team Leader and really enjoy working with the capable and motivated members of my team. Last year, I served as the SAE Secretary, and this year have the opportunity to serve as chapter President. What I learn each day through my involvement with SAE will be invaluable in the future engineering career, and for this I am very grateful.
Electric Car Steering Team Lead: Caleb Adams
My name is Caleb Adams and I am a sophomore here at MSOE.  This is my second year on the SuperMileage team.  Growing up, I have always had an interest in engineering.  From playing with Legos to building a tree house, creating and building a great design has always been my passion.  SuperMileage has been a way for me to do this in a very real way.  From the second week that I joined the team, I was involved with the design and construction of our vehicle.  I was able to apply concepts learned in my courses and gain experience not found in the classroom.  Overall, SuperMileage has been an excellent supplement to my education at MSOE and will benefit me in my career.