Meet the 2015-2016 Project Leaders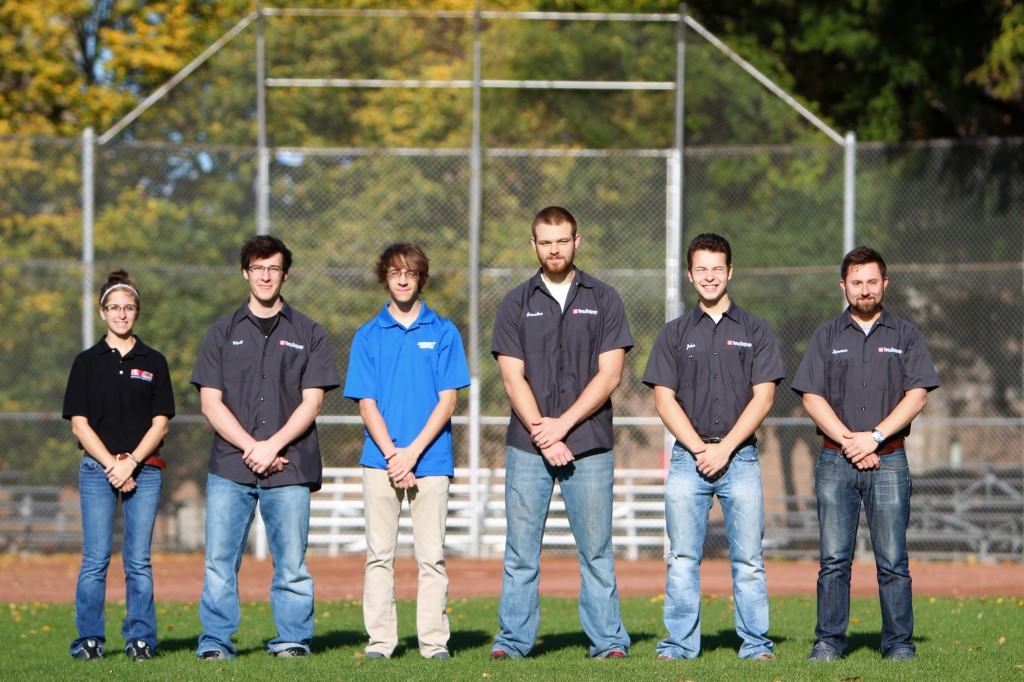 Project Manager: Brandon VanderHeyden

My name is Brandon VanderHeyden and I am a junior mechanical engineering student. This will be my third year on the team, and my second year as the Project Manager. I began my SuperMileage involvement in high school and the project was a major driving force in my choice to go to school for engineering as well as my choice to attend MSOE. I have worked on many different projects for the vehicles including drivetrain, fuel system, various engine projects, and am currently working on the mold for our new vehicle body.

 

 

Vice Project Manager: Lauren Goulet

My name is Lauren Goulet and I am a junior mechanical engineering student at Milwaukee School of Engineering (MSOE). This is my third year as a member of the MSOE SuperMileage Vehicle team, and my first year as Vice Project Manager. My interest in engineering and vehicles comes from my passion for NASCAR racing. The experiences and opportunities I have had as being a member of the team supplement the knowledge I have learned from the classroom. I would like to apply the experience I have gained from the SuperMileage Vehicle team to hopefully someday working within NASCAR.

 

 

Software Lead: Austin Hartline

As a software engineer at MSOE, I have a natural inclination to take the skills and tools I learn in my classes and apply them in my own way to projects outside of my classes. Since my freshman year, I've felt the SuperMileage Design Project is an excellent means to do this.  SuperMileage has also been a very valuable avenue for me to learn new skills and tools that I can supplement my in class learning with. This includes learning about mechanical design, fuel efficiency techniques, embedded systems, web architecture, and mobile development. Within the team, I coordinate several other software engineer students and collaborate with the electrical engineers to design and build the electrical system for our prototype vehicles, as well as a data acquisition system to provide realtime feedback and sensor information to the driver and crew while we test the car. I also enjoy SuperMIleage as I get to build camaraderie with a group of talented individuals from diverse backgrounds that I wouldn't otherwise be able to do.

 

 

 

Treasurer: Spencer Rich

I am currently a junior mechanical engineering student and hold the positions of Engine Team Leader, as well as Treasurer on the MSOE SAE SuperMileage team.  I also serve the MSOE SAE student chapter as Treasurer. I have been a part of both SAE and the SAE SuperMileage Team since I was a freshman. I have always had an interest in automotive engineering, and felt that being involved in SAE and the SuperMileage team was a great outlet for introducing myself to the industry. One day I hope to make contributions to vehicle efficiency for a major auto manufacturer.

 

 

Sponsorship Coordinator: John G Miller

I am a sophomore mechanical engineering student at MSOE and also the Sponsorship Coordinator and Media Manager for the SuperMileage Vehicle design team. I originally became involved with the design team as a result of my interest in the automotive field and desire to gain design on experience. Although my original interests still hold true, my attention has transitioned toward advancing alternative fuel in the mobility sector and focusing on renewable energy outlets. I hope to carry the valuable experience gained through my participation with the team to a position working within the mobility field and focused on sustainability energy sources.