Meet the 2016-2017 Project Team Leads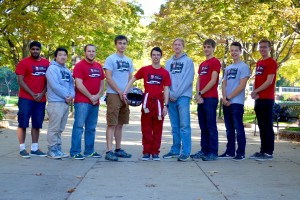 Joe Pechstein Project Manager

Hello my name is Joe Pechstein I am a junior mechanical engineering student. I have been on the Supermileage team for 3 years and I am the project manager of the 2016-2017 team as well as the engine team leader. Through Supermileage I have been able to participate in a variety of projects including the fuel system, body design and fabrication, and engine and drivetrain. I grew up in West Bend, WI and I got interested in the mechanical engineering field because of the wide range of topics and responsibilities that a mechanical engineer can do.

 
John Miller Engineering Manager

My name is John Miller and I am a junior mechanical engineering student here at MSOE. I am originally from Dubuque, Iowa. I have been a team member since the start of my freshman year am presently engineering manager and body lead for the 2016-2017 SuperMileage Vehicle design team. An interesting fact about myself is that I have never traveled outside of the United States, but I am very interested to do so when an opportunity arises. I originally became involved with the design team as a result of my interest in the automotive field and desire to participate in an application-based learning environment. Although my original interests still hold true, my attention has transitioned toward advancing alternative fuel in the mobility sector and focusing on renewable energy outlets. I hope to carry the valuable experience gained through my participation with the team to a position working within the mobility field, focused on sustainability energy sources.

 

 

Jacob Rusch Treasurer

My name is Jacob Rusch and I am a sophomore mechanical engineering student at MSOE. I am originally from Racine, WI. My interest in engineering comes from my passion to fly and my love for cars. This is my second year that I have been involved with SuperMileage. This is my first time as treasurer on the MSOE SuperMileage team.

 
Kamith Mirassage Sponsorship Coordinator

My name is Kamith Mirissage and I am junior Electrical Engineer at Milwaukee School of Engineering (MSOE). Currently I am the sponsorship coordinator of the SuperMileage vehicle (SMV) team and this is my second year at SMV. I was born in Colombo, Sri Lanka and my family moved to United State in 2004. Growing up in a family of engineers, it was natural for me to become an engineer. In high school I was heavily involved with F.I.R.S.T robotics and that has helped guide my career path. In addition to being an engineer, I am also a musician. I can play multiple instruments including: Piano, Violin, Cello, Ukulele, Guitar, and viola.

 

 
Sheldon Ha Media Manager

Hello my name is Sheldon Ha, I am the media manager, and the electrical team lead. I have been a part of the supermileage team since my freshman year, and I am currently a junior. I am originally from Aurora Illinois, but I came to Milwaukee School of Engineering to study electrical engineering. I chose electrical engineering because I enjoy building circuits. An interesting fact about me is I enjoy collecting cool looking shoes and hats.

 
Mitchell Carpenter Driver

My name is Mitchell Carpenter and I'm from Aurora, IL. I'm a sophomore computer engineering student and a member of our electrical engineering team. However, I am also driver of the electric vehicle. I've been on the team since my freshman year. My interest in engineering stems from working with computers and smartphones. An interesting fact about me is that, I built my own desktop computer.

 

 
Zach Pisarek Drivetrain Team Lead

My name is Zachery Pisarek and I am a junior mechanical engineering student. I currently hold the position of Drivetrain Team Leader for the SuperMileage Vehicle design team. This is my third year being on the SuperMileage design team.  My interest in engineering came after taking an intro to engineering design class in high school.  After that I knew that I wanted to do something with engineering.  The reason I chose to join the SuperMileage design team was my interest in cars and the opportunity to have hands on experience along with the material I learn in the classroom.

 
Andrew Gray Steering and Braking Lead

Hello, I'm Andrew. This is my third year on Team Carbonair and I am the steering and braking lead. I'm a Junior here at MSOE working towards a degree in Mechanical Engineering. Although I'm originally from Mundelein Illinois, I've lived in Arkansas and Michigan as well. I'm very interested in design work and would love to work in robotics or the automotive field. Some interesting facts about me are that I love to play guitar, I can ride a unicycle, and I love to play ultimate Frisbee.

 

 
Eric Drewitz CNC Team Lead

My name is Eric Drewitz and I am a sophomore electrical engineering student and a second year SuperMileage Vehicle design team member. This year I am serving as project lead for our CNC router table project. I will be leading a group of team members to design and build a CNC router table to be used in assisting body fabrication for future vehicles. I became involved with the team after hearing about it from my RA, I knew right away it would be the perfect combination of practical experience mixed with my passion for vehicles and the automotive industry. An interesting fact about me is that I speak fluent Polish!