Since the beginning of the 2016-2017 season, we have had a variety of projects that we needed to take on for both the gas and electric powered vehicles.
Our body team has been working on designing a new body for the gas vehicle. The new body design features a 20% reduction in frontal area making it more aerodynamic. This improvement will also make the body significantly lighter. The team has also begun work on a mold for the composite layup.
The steering and braking team has improved the alignment in the braking system for both vehicles. Additionally, they are re-working the steering in the electric vehicle to remove play. They are also improving the wheel alignment in both vehicles to reduce the amount of friction to allow the wheels to spin as freely as possible.
The engine team is making improvements to the fuel system, the starter gearing, and the intake flange design. All of these improvements will help make the engine run more efficiently and reliably.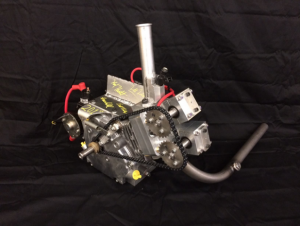 The electrical team is planning on switching the electric vehicle's brushed motor system to a brushless motor system. This is a brand new experience for them and they are learning a lot. They are currently working on the driver system, and are in the process of building one to test.
With these great projects, we are looking forward to what is next and updating our viewers and sponsors.