In order to increase the presence of Team Carbonair online, we have started a monthly update to inform our viewers and sponsors of our current progress. In these upcoming months, the Supermileage team will be communicating the projects that are being accomplished. Each month will feature a specific project that we have worked on.
For the month of October, we would like to feature a brand new project that we have been working to develop. This year we are designing a CNC router machine. This CNC machine will help the team out in numerous ways, notably by saving time for one off production that is not only more accurate than we can do by hand, but also faster. With this CNC machine, projects such as the body mold fabrication could be accomplished more efficiently. The students that are working on the CNC machine have worked tirelessly in designing and researching the entire machine from scratch.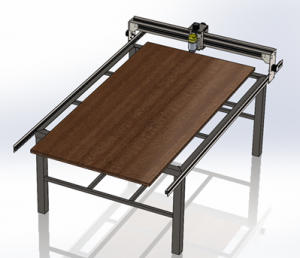 With all of the hard work that was put in, we have submitted this project for approval. Once the project has been approved we will begin building the machine. This project has come so far since the beginning of the year and we are excited to see how it looks once it has been completed.